Note: "Diamond Naturals" dog food is NOT the same as Blue Diamond or Diamond Brand dog food.
Diamond Naturals dog foods are made without corn, wheat, or soy. This isn't a requirement for beagles, but we like the Diamond Naturals ingredient and nutritional panels.
Our puppies stay on Diamond Naturals puppy foods (Chicken/Small Breed until they are several months old, and then sometimes we switch to Lamb/Large breed when they can handle the larger kibble size). Some time between 7 and 10 months, we transition them over to the Diamond Naturals Chicken and Rice food, which meets the AAFCO standards for all life stages. Depending upon the puppy, we may mix the puppy food and the adult food until they are 12 months old.
Beagles are very hardy dogs, and don't require any special dog foods. However, some can easily become overweight when fed according to instructions on dog food bags (as can dogs of any breed), because they may not need that much food to maintain their weight.
Our adult dogs average 1 to 1 1/2 cups per day of Diamond Naturals Chicken and Rice dog food. The more active dogs get the upper end of that amount, while lower-activity dogs need the lower amount. How much you will give your beagle will depend upon his/her activity level and individual metabolism.
I feed Diamond Naturals Chicken and Rice to our dogs because it is approved for "all life stages," or meets the requirements set by AAFCO for all life stages of dogs (from puppies to pregnant to nursing mothers, etc.). So that one is the most well-rounded of the Diamond Naturals feed choices, most likely, and works for us because we have to feed our pregnant girls properly.
I also like to mix in the Extreme Athlete for some of our dogs, and when I do, their hair coats really get shiny! But, that one has a lot of calories and fat, so you have to watch how much they get to prevent them from getting overweight.
I have used Diamond Naturals' Lamb and Rice and also their Beef and Rice before as well. My least favorite is probably the Beef and Rice in terms of how the dogs "looked" while getting that one, but it's ingredient panel is actually very good (maybe I didn't give it enough time). So often, I mix the Beef with the Chicken instead of giving one type straight, in the hopes that giving a variety gives the dogs a more well-rounded set of nutrients from time to time. I'll do the same with the Lamb at times, mixing it with the Chicken version just to give them some variety and also to offer them a slightly different nutritional profile. However, ALL of the Diamond Naturals are great foods.
***Because we usually have someone pregnant or nursing, the Chicken and Rice is a mainstay here, though, as it meets the AAFCO's recommendations for all life stages.***
http://www.diamondpet.com/our-brands/diamond-naturals/chicken-rice-formula-for-adult-dogs/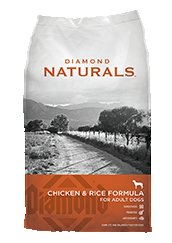 I also support giving adult beagles NuVet Plus antioxidant supplements. Diamond Naturals foods are excellent by themselves. But the NuVet vitamins offer additional antioxidants, prebiotics, and probiotics that are cold pressed (not cooked), which I feel is an advantage. NuVet also has joint supplements for older dogs, as well as many other high-quality products for dog health/care.
http://www.nuvetlabs.com/
1-800-474-7044
You may have to use my order code if you order via phone: 23915
Or, order by clicking the bottle image, below: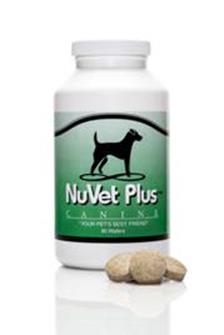 NuVet Plus: Natural, Powerful Immune System Support