Congratulations! You must be about ready to have a new puppy join your family, and BOY, how EXCITING that is! We are glad to see our little waggy-tailed tykes go to homes like yours that are ready to have a ball with them.
First, have you read through our page about "what to do when you think you're ready to buy a puppy?" If not, it's right here. This page is sort of a list of things to do from now until you pick up your puppy. It includes a link to our sales procedures and guarantees, information about deposits, what you need to have before your puppy comes home, etc. One of the steps involves paying a partial payment/deposit (or the whole cost, if you prefer) to reserve your puppy.
Payment Methods (you must be 18 years old or older to buy a puppy from us):
We accept personal checks and money orders for deposits, but not for final payments at the time of pick up.

Cash

Credit card payments via PayPal. You do not have to have a PayPal account to use your credit card via PayPal. However, keep in mind that if you use the e-check option in PayPal, the payment takes 4 to 7 days to process. Please don't use PayPal "at the last minute" unless your have a normal credit or debit card, because it will not be processed for several days. We can't let a puppy leave us until confirmed funds are here. The credit card or PayPal account (whichever applies) must be in the name of the purchaser.

MoneyGram from Wal-Mart is no longer accepted, because you should NEVER send a wire transfer such as Western Union or MoneyGram unless you know the person the money is being sent to. Although we ARE honest and truly do own our puppies that are represented as being for sale, we don't want YOU to use this unsafe method of paying for a puppy. Not from us, and not from anyone else...please don't do it! Don't get scammed! Please click here to read tips about how to know whether you are talking to a real puppy owner, or a scammer that has stolen photos from other web sites (link opens in a new window).
Depositing to Reserve Your Puppy:
A $100 nonrefundable deposit is required to hold a puppy until it is old enough to go to your home, though some people pay fully at the time of deposit. If more than $100 is paid initially, $100 of that payment will be considered the deposit. This deposit is applied toward the puppy's cost.
Will I Get a Refund if I Back Out?
The first $100 you pay toward your puppy is considered a non-refundable deposit that applies toward your puppy's total price. "But," we do try to refund deposits in cases where the puppy is reserved by another family for the same price. Much depends upon the timing of everything. More 2 paragraphs below...
If for some reason, you are unable to finish paying for the puppy, and you tell us before he/she is 8 weeks old, we will refund all that you have paid except the $100 deposit.
E
xtended reservations beyond 8 weeks of age:
If you have requested that we keep a puppy longer than 8 weeks, full payment is required after the first weekend following their 8-week age. Canceling after that incurs a $50 per week refund reduction, as puppy prices typically must be reduced to sell older puppies.

If we sell that puppy for the full original asking price, we typically can refund your deposit MINUS extra advertising expenses/fees/vet bills, etc. that we incur.

See our Guarantees page for more information about our standard practices and health guarantees.
The Final Payment:
The most-often used final payment methods are:
Cash at the time of pick up

Payment with a credit card/PayPal account that doesn't require time for bank clearance

Sorry...Checks are not accepted at the time of pick up due to some bad experiences in the past. :-(
Please don't wait until the last minute to send the final payment if using PayPal unless your PayPal setup allows instant payment. We have run into all kinds of glitches with all payment methods other than cash at the time of pick up.
Most people pay the rest of the cost in cash at the time of pickup, but if you wish to pay via check or money order, that is fine as long as it is at least 2 weeks prior to picking up your puppy, to allow the check to clear.
Wire transfers/MoneyGrams just aren't safe for you, the buyer. We feel nobody should send money to a perfect stranger that can't be disputed, as that's the way scammers are stealing peoples' money with non-existent puppies and stolen puppy photos.
When is Full/Final Payment Due?
Full payment is due before the puppy leaves us. Payment must be confirmable by that time, so if a check or money order is to be used, it should be sent 2 weeks earlier.
If we hold a puppy past the first weekend following the 8 week age for you at your request, full payment is required at 8 weeks.
Mailing address:
Toni Perdew
3005 Lexington Court
Bedford, IA 50833
Credit Card Payments:
Below is an odd assortment of PayPal buttons that, pieced together, should cover your puppy cost and shipping charges if you fly your puppy home. You can use more than one button if needed to gain the full amount of the costs.
If you need a different value button or would like me to e-mail you a clickable link for your specific amount, e-mail or call me.
If you don't have a PayPal account, choose a button below. When you are asked to sign up, just click "continue" and ignore the request for you to create an account. By doing this, you can use your credit card without having an account with PayPal.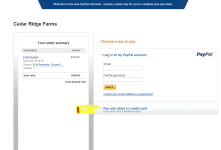 Click this thumbnail to see the location of the "continue" link if you don't have a PayPal account.
Please make sure you have filled out the Puppy Request/Info Exchange Form so we have all the information needed for our records.
By using your credit card to pay for or toward a puppy purchase,
you are assumed to be the owner of the credit card.
Do not attempt to make payment to us if you are not listed
as the account holder on the credit card; contact us instead
for payment options.

Reminder: The first $100 of your payments is considered the deposit, and applies toward the total cost of your puppy.

Miscellaneous Payment Amounts

If you plan to pay for the rest of your puppy via debit/credit card or PayPal, choose from the following payment amounts to add payments up for a single transaction. For example, if you want to pay $500, you can add two items to your cart: a $50 puppy payment, and a $450 payment (totaling $500).

Use any combination you want to end up with the correct total you wish to pay, and then check out.