Cedar Ridge Beagles is a family-owned, small kennel that raises dogs with the whole family participating. The "Dog Chores" are a fun time for the whole family, although Todd particularly hates building fences and houses. :-) But hey, you have to do some work in order to enjoy the puppies, right?
How CR Beagles Began
After teaching in Missouri for about 10 years, a job opening occurred at the high school in the town near which we live. An excellent school system and the opportunity to be more involved in my own community lead me to apply for and accept the teaching position. Unfortunately, 2 years later, the school had to cut two teaching positions. They cut the other teacher in my department, who had seniority over me. He accepted my job, so I found myself without employment and with a lot of time on my hands. I started a couple home-based businesses, and thought it was a gift to be able to stay at home with my kids for a year or two while waiting for another teaching position in my field to open nearby.
I believe that God only gives three answers to prayers:

1. Yes
2. Not yet
3. I have something better in mind. :-)
I knew a couple that had raised beagles for years, and asked them what another breed was that was as nice as beagles. I didn't want to compete with them, but thought we might raise a couple litters of puppies each year for a family activity and to help fill my time while my home-based businesses (computer work and raising organic garlic) built.
Margaret called me and said, "How about beagles?"
"No, I don't want to compete with you. Is there another good family breed?" I asked?
"How about beagles?" she replied.
Margaret told me she and Don were ready to retire, and asked if we would like to buy all their beagles. They wanted them to go to a good home, where they would be loved and where the owners were very good with animal husbandry and animal health care. And, they HAD to go to someone that would take them all, which meant they had to go to a farm where space was available to build a large fenced-in area. We were perfect...I have been raising horses for years, and am well versed in animal husbandry, selective breeding for quality, and health care knowledge. We had room, and the kids were excited!
In the years since those fateful events, CR Beagles (i.e. our family) has become the origin for beautiful, well-bred, loving, and healthy beagles for many families. The joys and sorrows are many, but we feel blessed to have received an answer to our prayers. Through our beagles, we have grown closer as a family and have developed a network of new friends through our puppies' new homes.
I keep busy these days doing computer work for farmers/ranchers/horse breeders, and spending time with the horses and beagles (well, yes, the organic garlic farm went bust after the drought of 2012 and we decided to not start it over again). Periodically, we get to a few shows with our horses and beagles, which just adds to the fun.
We extend an invitation to you to become one of our new friends, and one of our puppies' new best friends!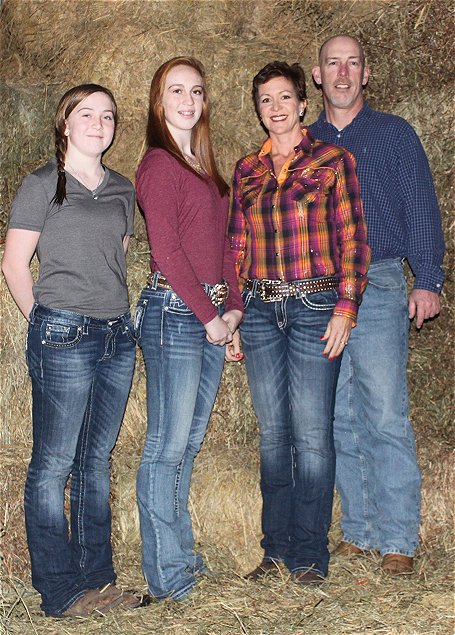 "Gnat" the beagle was supposed to be in this picture with us, but she darted out of the camera view right before the shutter snapped. Sigh. That's our Gnat!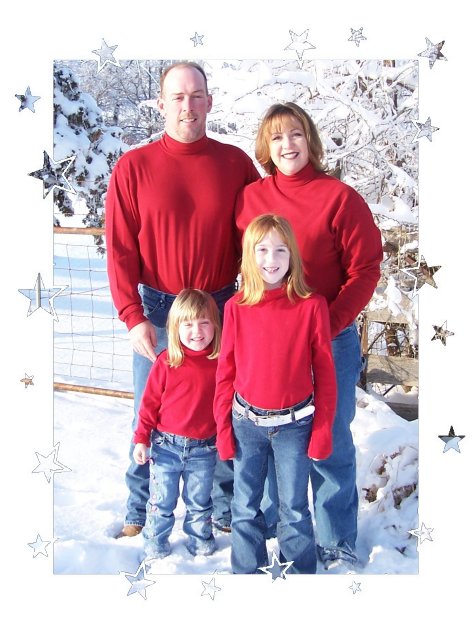 Where Are We?
Cedar Ridge is located near the intersections of Iowa, Kansas, Missouri, and Nebraska. We are about 2 hours each from Des Moines (Iowa), Kansas City (Missouri), and Omaha (Nebraska).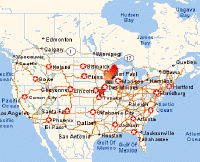 Most of the people who contact us and buy beagle puppies are looking for a beagle because they have had one before. That tells you something about the breed. There is no other testimonial better than the fact that people who have had beagles want to continue having beagles.
Our Beagles have been purchased from programs that have been breeding for many years, and were selected for disposition, health, and conformation as well as their appearance.
Our dogs have "playpens" to romp in, and have human play/interaction daily. We used to have our puppies in the house, but found that our carpet was showing the wear from so much traffic from mothers with post-birthing discharge. We then built a puppy house that is heated and air conditioned that we can keep more sanitary for the sake of the puppies and my husband's sanity. :-)
Puppies are loved daily and closely monitored for health status. By weaning, they will have had all expected veterinary procedures, including removal of dew claws (unless an unusual situation prevents it, which would be noted on the litter notes), vaccinations, deworming, etc. Puppies will have veterinary health inspections around 7 weeks old. Most importantly, they will have been played with for many hours, and love people! They will definitely have been well socialized and ready to join your family.
Our beagles are often the shorter variety, which makes them ideal for those seeking house pets or family friends, but some are the typical size. Although we don't hunt with our beagles, remember that beagles have been bred for centuries for hunting. If you are looking for a hunting dog, we feel that the instinct is in all beagles. Ours won't win the field trials, but they will know how to scare up some rabbits!
Please don't be offended if we ask you questions about your experience with puppies and the facilities you have for your puppy. We want to make sure our puppies will remain with you for many years. We won't require you to guarantee us anything (for example, we don't require spay/neuter promises), but we do want to feel happy, knowing that you will be a great family for our puppy to join.
We ONLY raise beagles (well, beagles and horses). Our litters are raised in people-immersed environments. We are just normal people that have and enjoy beagles. We are not a puppy mill. We are not a pet store. We are just a beagle-crazy family!
<700> <700> <700> <700> <700> <700> <700> <700> <700> <700> <700> <700> 700>700>700>700>700>700>700>700>700>700>700>700>